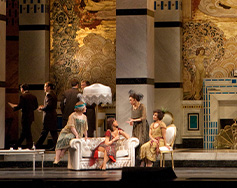 Met Live in HD: La Rondine
Live Broadcasts | 04/27/2024 | 12:55PM
Subscription Pricing (Reserved Seats for all performances):
$144.00 Student, $198.00 Senior, $207.00 Adult
CLICK HERE to purchase a 2023-24 Met Season Subscription Package
---
Pre-Opera Lecturer: Mary Ann Archer – Flutist, formerly with the Metropolitan Opera Orchestra for 26 years. Now also a spiritual director and author of "Shared Imagination," a book on meditation, and "Zeesha's Tale," an illustrated children's book. 
Sung in: Italian
Approximate Run Time: 2 hours and 47 minutes with one intermission
Puccini's bittersweet love story makes a rare Met appearance, with soprano Angel Blue starring as the French courtesan Magda, opposite tenor Jonathan Tetelman in his highly anticipated company debut as Ruggero, an idealistic young man who offers her an alternative to her life of excess. Maestro Speranza Scappucci conducts Nicolas Joël's Art Deco–inspired staging, which transports audiences from the heart of Parisian nightlife to a dreamy vision of the French Riviera. In their Met debuts, soprano Emily Pogorelc and tenor Bekhzod Davronov complete the sterling cast as Lisette and Prunier.
Image credit: Ken Howard/Met Opera
---
About the Met Live in HD:
In December 2006, The Metropolitan Opera launched The Met Live in HD, a series of performance transmissions shown live in high definition in movie theaters around the world. The series expanded from an initial six transmissions to ten in the 2014-15 season and today reaches more than 2,000 venues in 73 countries across six continents. The Live in HD performances are later also shown on public television, and a number of them have been released on DVD. In partnership with the New York City Department of Education and the Metropolitan Opera Guild, the Met has developed a nationwide program for students to attend Live in HD transmissions for free in their schools. The Paramount began broadcasting during the 2008-09 season and is pleased to continue to present this series for the community.
---
KNOW BEFORE YOU GO! The Paramount Theater is pleased to bring diverse programming to the stage and screen. The Theater does not provide advisories about subject matter for events, as sensitivities vary. Not all events may appeal to, or be appropriate for, every person. Patrons are encouraged to familiarize themselves with the shows offered in order to make informed decisions prior to purchasing tickets.