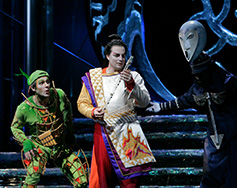 Met Live in HD Holiday Encore: The Magic Flute (from December 30, 2006)
Live Broadcasts | 12/20/2023 | 2:00PM
Pre-Opera Lecturer: Ann Shaffer – Longtime host of WTJU's Sunday Opera Matinee
Sung in: English
Approximate Run Time: 1 hour 55 minutes
This was the groundbreaking broadcast that launched the Met's heralded Live in HD series, seen by opera lovers in movie theaters around the world. Adults and children alike were enchanted by the whimsical humor and breathtaking puppetry of Julie Taymor's hit production, presented in a shortened English-language version. Under the baton of Maestro James Levine, a winning ensemble cast – including Nathan Gunn, Ying Huang, Matthew Polenzani, Erika Miklosa, and René Pape – brings fresh life to Mozart's timeless fairy tale.
Image credits: Ken Howard / Met Opera
---
About the Met Live in HD:
In December 2006, The Metropolitan Opera launched The Met Live in HD, a series of performance transmissions shown live in high definition in movie theaters around the world. The series expanded from an initial six transmissions to ten in the 2014-15 season and today reaches more than 2,000 venues in 73 countries across six continents. The Live in HD performances are later also shown on public television, and a number of them have been released on DVD. In partnership with the New York City Department of Education and the Metropolitan Opera Guild, the Met has developed a nationwide program for students to attend Live in HD transmissions for free in their schools. The Paramount began broadcasting during the 2008-09 season and is pleased to continue to present this series for the community.
---
KNOW BEFORE YOU GO! The Paramount Theater is pleased to bring diverse programming to the stage and screen. The Theater does not provide advisories about subject matter for events, as sensitivities vary. Not all events may appeal to, or be appropriate for, every person. Patrons are encouraged to familiarize themselves with the shows offered in order to make informed decisions prior to purchasing tickets.